You're Invited to Attend this LIVE Webinar!
"Let PayPal Fund Your Marketing Campaigns!"
WHEN:  

Available on INSTANT REPLAY On Demand, Right Now!
[OptinLink id=4]
[/OptinLink]
Would you like to have $10,000 or more in an advertising budget in just 3 to 5 minutes?
How would you spend your $10,000 advertising budget? Would you:
Spend it on Facebook ads?
Spend it on Pay Per Click ads on Google or AdRoll?
Spend it on Retargeting ads?
Buy media buys / banner ads with it?
Buy solo ads?
Buy clicks or traffic?
Or do some other type of advertising?
How much would you make in sales from that $10,000?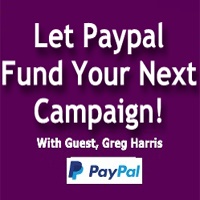 Greg Harris from Paypal and his associate, Tauna Greene, will show you exactly how you can — with NO CREDIT CHECK — qualify for $10,000, $20,000 or maybe even MORE, in a few seconds, from a PayPal Working Capital Loan!
Then, David Wright will help you learn step-by-step, how to invest those funds wisely using a combination of Pay Per Click advertising, Retargeting, and Media Buys to get you the greatest return on your investment!
If your $10,000 in advertising makes you just $100,000 in sales, you will have paid back your Working Capital Loan in full!
Once you've paid your loan back, you automatically qualify to get your next loan in about 72 hours! That means you could then get another $10,000 loan and do it again!
With what you'll learn in this training, you can literally use PayPal's money to grow your business exponentially year after year!
This is one of the most profit packed webinars you'll ever attend!
Get your notepad and pen ready! You'll want to take notes!
[OptinLink id=4]
[/OptinLink]